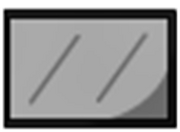 Metal Window, Also known as Window, Was the host of Object Universe Starting from Episode 9.
As Metal, Metal Window has only appeared in two episodes
While as Window, He appeared in every episode after.
In episode 10, Window appeared to Map, Yet it's still unknown if this was Metal Window, or the Actual Window.